Ramadhan 2013 / 1434 AH
Astronomical data and moon sighting probability information is available. It is important that Muslims understand the facts and educate themselves on this subject.
Ramadhan 1434 AH
New moon will be born at 07:14 (UT) on Monday 8th July 2013.
The pre-calculated Umm al-Qura calendar system of Saudi Arabia will accept moon sighting up to 97.7 degrees latitude (the location at which sunset occurs when dawn is breaking the following morning in Mecca).
Learn more about the Umm al-Qura calendar system of Saudi Arabia
Global scan for Monday (8th) evening (Click to view in detail):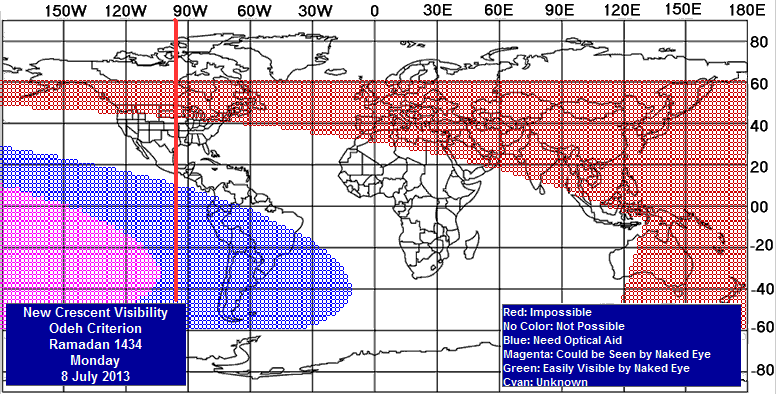 RED LINE : Limiting Horizon of 97.7 Degrees
RED Area: Impossible No Colour: Not Possible Blue: Need Optical Aid Magenta: Could be Seen by Naked Eye Green: Easily Visible by Naked Eye Cyan: Unknown
Muslims and Astronomers from across the world search for the new moon at the start of each Islamic month. Their findings are posted on the Internet on sites such as www.moonsighting.com.
The information gathered for Ramadhan can be seen by clicking here.
Conclusion:
On the basis of all the scientific information available, the moon will not be visible with the naked eye on Monday evening (8th). The first day of Ramadhan is expected to be Wednesday 10th July 2013. 
The rules of the Umm al-Qura calendar system of Saudi Arabia allow for the start of the new Islamic month on the 29th night if:
1. The geocentric conjunction occurs before sunset.
2. The moon sets after the sun.
 
Both of these criteria will be met on Monday evening (8th) even though the moon cannot be seen with the naked eye. Saudi Arabia will announce the start of Ramadhan as Tuesday 9th July 2013.
Update (Once Ramadhan began):
With the Grace of Allah, Saudi did not begin the new Islamic month on the basis of a moon which set one minute after sunset in Makkah on Monday 8th July 2013. This is only one of the handful of occasions since the new Umm al-Qura formula was established ( 2002 / 1423) that a fixed civil date has been overridden.
The majority of the Muslim Ummah began Ramadhan on Wednesday 10th July 2013.
Zakaat, Sadaqa or Fitra Donation
Announcements
Study Circle Presentation :
now available for download
ICWA (Ladies) Events:
Please see click here to see the website event calendar for all ICWA (Ladies) events and programmes
Second Juma Salaah being offered during the summer months.
4.30 PM at the Leicester Mosque (Sutherland St)
Got an Islamic question or query ?
Use our 'Ask an Alim' service.