Eid-ul-Fitr 2013 / 1434 AH
Astronomical data and moon sighting probability information is available. It is important that Muslims understand the facts and educate themselves on this subject.
Eid-ul-Fitr 1434 AH
New moon will be born at 21:51 (UT) on Tuesday 6th August 2013.
The moon will not be visible anywhere in the world on Tueday 6th August 2013.
The pre-calculated Umm al-Qura calendar system of Saudi Arabia will accept moon sighting up to 104.17 degrees latitude.
Learn more about the Umm al-Qura calendar system of Saudi Arabia
Global scan for Wednesday (7th) evening (Click to view in detail):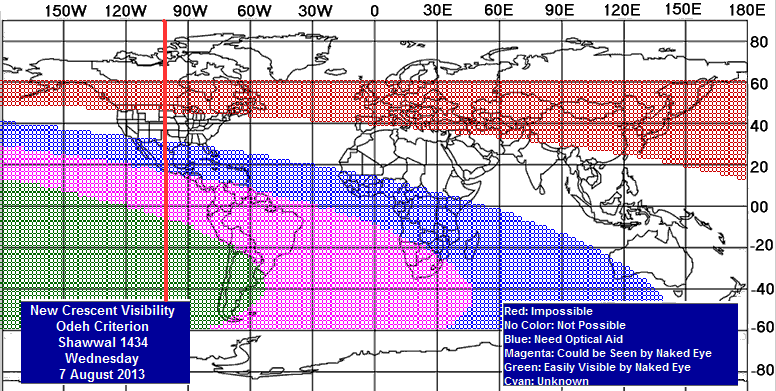 RED LINE : Limiting Horizon of 104.7 Degrees
RED Area: Impossible No Colour: Not Possible Blue: Need Optical Aid Magenta: Could be Seen by Naked Eye Green: Easily Visible by Naked Eye Cyan: Unknown
Muslims and Astronomers from across the world search for the new moon at the start of each Islamic month. Their findings are posted on the Internet on sites such as www.moonsighting.com.
The information gathered for Eid-ul-Fitr can be seen by clicking here.
Conclusion:
The Umm al-Qura calendar system of Saudi Arabia will allow for the annoucement of Eid-ul-Fitr based on the certainty that someone in South Africa or South America will see the moon many hours after sunset in Saudi Arabia. On this basis it is very likely that Saudi Arabia will peform Eid-ul-Fitr on Thursday 8th August.
On the basis of all the scientific information available, the moon will first be visible in South Africa on Wednesday evening (7th) but will be difficult to sight. If the UK receives confirmation from South Africa then Eid-ul-Fitr will be held on Thursday 8th August otherwise Eid-ul-Fitr will be celebrated on Friday 9th August 2013. 
Post Eid-ul-Fitr Update:
Followers of the Umm al-Qura Saudi Calendar performed Eid on Thursday 8th August 2013. Astronomical information showed that only the western coast of South Africa and South America would be able to see the Moon (much later after sunset in Mecca). Moon was not sighted in Cape Town due to bad weather. 
As the moon was not seen in South Africa on Wednesday 7th August, 30 days of Ramadhan were completed and Eid was marked on Friday 9th August 2013.
Zakaat, Sadaqa or Fitra Donation
Announcements
Study Circle Presentation :
now available for download
ICWA (Ladies) Events:
Please see click here to see the website event calendar for all ICWA (Ladies) events and programmes
Second Juma Salaah being offered during the summer months.
4.30 PM at the Leicester Mosque (Sutherland St)
Got an Islamic question or query ?
Use our 'Ask an Alim' service.