Welcome to IslamicCentre.org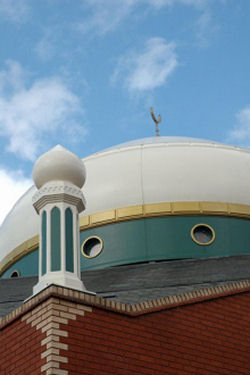 This is your opportunity to give feedback and pro-actively contribute to the sites success. InshaAllah. Over time we expect to incorporate loads of new ideas including a blog from Maulana Shahid Raza and live event audio feed from the masjid but for now please browse what we do have and send us an email to tell us how you like the site so far.

The technology incorporated in this site allows you to contribute to the site, pending moderation obviously, hence we need your input! Please fill in your details in the contact us section and tell us what how you think you can help us contribute and what ideas you can bring to your masjid's website. Remember this is your site!
GPU Lifetime Achievement Award
Congratulations to our head Imam, Allama Shahid Raza OBE who has been honoured with the Global Peace & Unity (GPU) Lifetime Achievement Award 2013 for services to the community.
An independent panel of judges consisting of distinguished persons selected Allama Shahid Raza in recognition of the exceptional work carried out to establish and support services within the community.
Allama Shahid Raza will be presented with the Lifetime Achievement Award at the GPU festival on Saturday 23rd November 2013.
Muharram Lectures 1435 AH
Lectures are held for the first ten days of Muharram on the Holy Prophet, peace and blessings be upon him, his followers and his family including the martyrdom of the Imam Hussain (May God be pleased with him)
Imam Hussain and the Tragedy of Karbala
Islamic Centre publication by Allama Shahid Raza and Allama Hafiz Ather Hussain al-Azhari on the subject of Imam Hussain (May Allah be pleased with him) and the tragedy of Karbala.
Salaah Times
| | Begins | Jamaat |
| --- | --- | --- |
| Fajar | 5.52 | 7.20 |
| Sunrise | 7.56 | |
| Zuhr | 11.58 | 1.15 |
| Asr | 2.08 | 3.00 |
| Magrib | 3.54 | |
| Isha | 6.00 | 7.30 |
Juma Khutba: 12.45 PM at Sutherland Street and 1.15 PM - Conduit Street
View full timetable
Download full timetable
Zakaat, Sadaqa or Fitra Donation
Announcements
Juma Khutba:
12:45 PM - Sutherland St
1:15 PM - Conduit St
ICWA (Ladies) Events:
Please see click here to see the website event calendar for all ICWA (Ladies) events and programmes
Got an Islamic question or query ?
Use our 'Ask an Alim' service.